The state's Board of Public Works OK-ed $210 million in cuts to the state's budget for the current operating year (which runs through June). The cuts, proposed by outgoing governor Martin O'Malley, are intended to help cover an estimated $400 million revenue shortfall. In addition to an across-the-board reduction, the panel approved specific cuts to community colleges and other higher education institutions. O'Malley intends to propose another $200 million in budget cuts when the state's General Assembly convenes next week. Incoming governor Larry Hogan has promised additional cuts for the coming year's budget, with few specifics. The state's new Attorney General, Brian Frosh, is warning about how all the slashing will negatively impact services.
---
In a press release and robocall to parents, Baltimore City Schools CEO Gregory Thornton sorta apologized for opening schools on time yesterday.
---
In yesterday's icy conditions, a Bel Air paramedic died while responding to a car accident.
---
After City Paper asked the Baltimore Police Department for a list of the people they've blocked on Twitter, the department issued a tweetstorm to justify why they've been blocking local residents that harshly criticize the department. The main reason? Kids could see bad words, if they're savvy enough to go digging in the @replies feed of the department. So, instead of blocking (which only censors tweets from the viewpoint of the @baltimorepolice account, but informs the offending user), the department now intends to mute (which only censors tweets from the viewpoint of the @baltimorepolice account, but does not inform the offending user) its potty-mouthed critics.
In other words – the only change to their policy is that it will now be more difficult to sort out who department quelches online. At least all the children with the @BaltimorePolice login info won't see naughty words on the internet!
---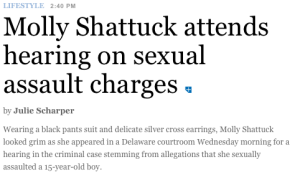 Molly Shattuck, former Ravens cheerleader charged with raping a teenager, was in court today – but nothing really happened. Her trial was set for March, that's it, really. This didn't stop nearly every media outlet from covering this like it was the most important thing that happened today, and treating it as a lifestyle story – focusing in on the fashion choices of the alleged rapist.